Getting a manicure done is not just a great stress buster but it is also one of the best ways to look and feel confident. For women, manicure is as indispensable to their beauty regime as proper makeup. A professional manicure generally lasts not more than thirty minutes. Then there are many manicure products that helps in exfoliating and hydrating the sensitive skin around the nails. Nowadays, there are various types of manicures available, ranging from luxury manicure, mini manicure, paraffin wax to hot oil and waterless manicure. For many, indulging in this royal treatment is a way of pampering themselves and releasing the stress and tiredness off their body.
Signature pedicure
The Signature Pedicure begins with a warm softening, cleansing ritual and soak with technical grooming of the toes including callus maintenance. This is followed by our luxurious exfoliating sugar scrub complete with hot towel renewal, a therapeutic body butter massage. We finish with a flawless polish application for a complete nourishing and restorative pedicure experience.
Luxury pedicure procedure
My Luxury Pedicure treatment begins with a custom nail and cuticle maintenance. This is followed by a luxurious exfoliating scrub and a warm softening ritual and soak followed by a therapeutic aromatherapy massage. Your feet will be treated to a decadent hydrating mask and wrap with electric boots for maximum absorption OR Hot Oil Treatment OR Paraffin Wax wrapped with cling film and hot towel wrap. An intense body butter or hot oil massage followed by a flawless polish application will surely leave your feet feeling renewed and pampered.
Luxury pedicures
Hot Oil Pedicures
Paraffin Wax Pedicures
Hydrating Mask Pedicures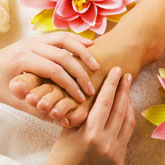 Mini Pedi
For my petite clients – 12 and under a pedi complete with a nourishing rich body butter massage and flawless polish application.
Restoration Foot Therapy
Restoration Foot Therapy treatment is a 20 minute intense foot massage designed for the client who is on the go and has limited time. We begin with a warm foot wrap, followed by the cleansing of the feet and a hot oil massage. A hot towel wrap provides the finishing touch.