An Introduction to Our Facials
The facials help your skin breathe, clear dead skin cells, eliminate toxins and impurities, improve circulation and induce a state of relaxation! it also helps address many different skin issues like Pre-mature aging, Acne, Skin brightening, Pigmentation and blemishes, Skin Tanning, etc. most of these facials are infused with the goodness of Herbal ingredients which makes it possible to treat the clients from the age of 14- 16 years.
For best results, a series of treatments are recommended. Multiple treatment packages are available upon request.
Skin Whitening Facial (For All Skin Types) – 60/90min.
The Skin Whitening Facial is a powerful formulation which helps improve your complexion. It is enriched with the natural goodness of olive oil. This treatment helps make the skin fairer. It does not contain any Hydrogen Peroxide or other bleaching agents.
THIS FACIAL INCLUDES: skin analysis, deep cleansing, exfoliation, steam, extractions, tonning, whitening gel, stimulating facial massage including neck and shoulder massage, a whitening mask, deep hydrating moisturization and sun protection.
Herbal Acne Treatment Facial (For Oily & Acne Prone Skin) – 60/90min.
Acne is a chronic condition that affects people of all ages and skin types. Though it is not curable, it is highly manageable and controllable. Acne is caused by various internal and external factors. Internal causes of acne include hormonal imbalance, stress, genetic factors and bacterial contamination while external causes of acne include diet, hygiene and the changing environment.
This facial is recommended for excessively oily or problematic skin. It helps to control acne and minimize blemishes and scars while hydrating the skin and helping it achieve its youthful glow. Our specialized clay mixture*, sandalwood** and herbs are used to slough off dead skin cells, draw out oils and impurities from the skin and help slow down excessive oil production to help balance your skin. The clay mix makes skin radiant and appealing by getting rid of acne, blackheads, white heads, and other blemishes. It flushes out toxins, removes impurities, sloughs off dead skin cell and hydrates the skin, leaving your skin feeling glowing and refreshed.
Sandalwood has great antiseptic properties and is an age old remedy for fighting acne, blemishes and premature aging. It also draws out impurities from the skin, tightens the pores and leaves your skin looking radiant.
THIS FACIAL INCLUDES: skin analysis, deep cleansing, exfoliation, steam, extractions, toning, stimulating facial gel massage including neck and shoulders, acne treatment mask, moisturization and sun protection.
Rejuvenating Anti-Aging Facial (For All Skin Types) – 90min.
The timeless secret of ancient world traditions for slowing down the aging process, is to maintain a balanced life internally and externally. Our rejuvenating anti-aging facial helps you relax into a state of equilibrium while combating the effects of pre-mature aging. The sign of ageing is the loss of collagen, the skin loses its elasticity and wrinkles and fine lines start forming. Our anti-ageing skin care facial shall help stimulate the production of collagen, mitigate and remove fine lines and wrinkles.
Citrus and Blackberry Cleanser, Apricot and Almond Facial Scrub, Wheat germ with Vitamin E Face Massage Cream, Witch Hazel and Basil Skin Toning Gel, Sandal, Saffron & Honey Anti-Ageing Pack, Almond, Ginseng, Olive, Alchimilla & Grape Seed extract Anti-Ageing Moisturising Skin Cream. It improves circulation, minimize fine lines and wrinkles and rejuvenate your skin. The gentle enzyme action provides just the right amount of exfoliation while infusing important antioxidant and tissue building nutrients into the skin. When combined with age-fighting antioxidants and vitamins, skin is nourished and protected from the aging effects of oxygen and sunlight. The texture of your skin is significantly improved and is left feeling healthy and nourished.
THIS FACIAL INCLUDES: deep cleansing, toning, exfoliating enzyme steam, extractions, eye treatment, hydrating lip treatment, stimulating facial massage, moisturizer and a soothing scalp massage.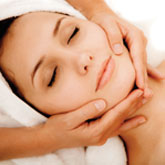 Anti-Pigmentation and Anti- Blemish Facial (For All Skin Types) – 90min.
Diminish dark spots and pigmentations with this amazing facial. This amazing facial is well loved by the clients as it is filled with the goodness of nothing but natural herbs and oils to nourish your skin, aiding in all sorts of ailments and beauty concerns. This facial contains a citrus and blackberry cleanser, oat veg peel, wheat germ massage cream, witch hazel and basil toning gel, nutmeg and rosemary anti-pigmentation blemish face mask as well as a saffron blemish and pigmentation cream, With regular treatment you can reverse or slide gradually into the aging process. Opt for a youthful and radiant complexion with these innovative natural ingredients. Together, they aid to pump up your skins natural collagen production. This aids in diminishing unsightly marks. It also tackles the over-production of melanin that causes pigmentation marks and dark spots. Boost your skins natural cell renewal processes, increase hydration levels and nourish your skin with all the goodness from nature, with no harmful chemicals.
THIS FACIAL INCLUDES: skin analysis, deep cleansing, exfoliation, steam, extractions, toning, skin toning gel, stimulating facial massage, treatment mask, moisturization and sun protection
4 LAYERS ADVANCED WHITENING Facial (all skin types) – 90mins
This unique 4 Layers Advanced Skin Whitening Facial contains therapeutic natural active ingredients to correct and prevent the occurrence of spots and reduces melanin to get a uniform and translucent complexion. This makes the skin fairer, while bringing a radiant glow to the face.
4 LAYERS Botanical Cleanser
4 LAYERS Gentle Exfoliator (Layer I)
4 LAYERS Active Treatment Serum (Layer II)
4 LAYERS Active Botanical Infusion Crème Masque (Laye
4 LAYERS Deep Penetrating Self-heating Herbal Infused Masque (Layer IV)
Finished with sun protection and hydrating moisturizer.